About
At PFK, a successful journey and your safety is our business. We take that mantra very seriously, and where others would give up, we only push ourselves harder. In order to ensure you're always covered and protected, no matter the situation, we offer a wide array of comprehensive services – available nationwide, 24/7 hours a day, seven days a week. If you need it; we do it.
Contact us
Emergency centre: +27 861 742 778 / +27 800 000 735
Australian call centre: +61 290 422 437
Risk control centre: +27 860 487 825
Office number: +27 219 143 902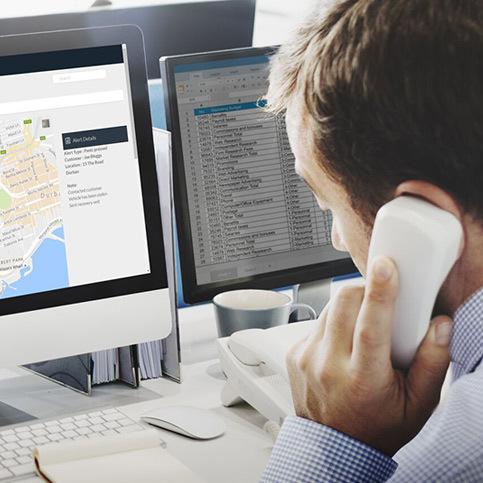 Intimate knowledge of modern tracking technology enables our recovery controllers and agents to track your field units and recover your assets. 
Whether you own a fleet or a single vehicle, our Control Room is equipped to alert you, and respond, to any incident – from Vehicle Battery Disconnects and Panic Alarms to Crash Alerts, unauthorised stops, geo-fencing triggers and excessive speeds.
We monitor driver behaviour and any alerts and then, using powerful and customisable reporting tools, provide the information you need to ensure you always know where your vehicles are and what they're doing.
A bad driver can cost a company millions. We'll not only monitor your drivers' behaviour 24/7, but also provide helpful feedback to them, lowering your risk of accidents and unnecessary injury.
Studies prove that drivers obey the rules of the road more consistently if they are aware that they're being monitored. We take that one step further, by immediately informing your drivers when they exceed the speed limit, or if the unit registers significant pressure.
Our sophisticated analytics platform allows us to identify areas prone to theft and hijacking, to allow proactive monitoring, by notifying us when a driver crosses into a high-risk area.
As part of our continued effort to provide the visibility you demand from a modern service, we're able to generate comprehensive reports based on your requirements, the software you've employed and the tracking package in use.
Nationwide coverage and rigorous training has enabled our Control Room the ability to manage a crash scene from start to finish. That includes contacting emergency services, towing, security and spillage services. We'll ensure you get home.
Should you, a loved one, or a driver be taken hostage, you can rest assured that you will have the best support in the industry by your side at a moment's notice, including excellent hostage negotiation services.
In the event your cargo is about to enter a high-risk area, breaks down, has an accident, or experiences an attempted hijacking, our Control Room can dispatch our nationwide safeguarding services to protect or escort your freight to a safe area or depot. Upon request, our agents will be armed for added protection. 
Staying ahead of crime in South Africa means being proactive, so we periodically test our employees with polygraph technology, ensuring your personal or fleet information is never shared. We will provide the contact information for our qualified testers upon request. 
A network of trusted towing companies has enabled us to assist you at any time of the day, nationwide, irrespective of the vehicle size or shape.
On request, we will dispatch air support from all the major cities in South Africa for vehicle recovery.
When other companies would declare their hands tied the moment your property crosses the border, we maintain agents at all South African border posts, as well as in various surrounding countries.
Our Control Room is available 24 hours a day, seven days a week, including all public holidays. Come rain or shine, our operators are always willing and ready to assist you with recovery, safeguarding or emergency services.